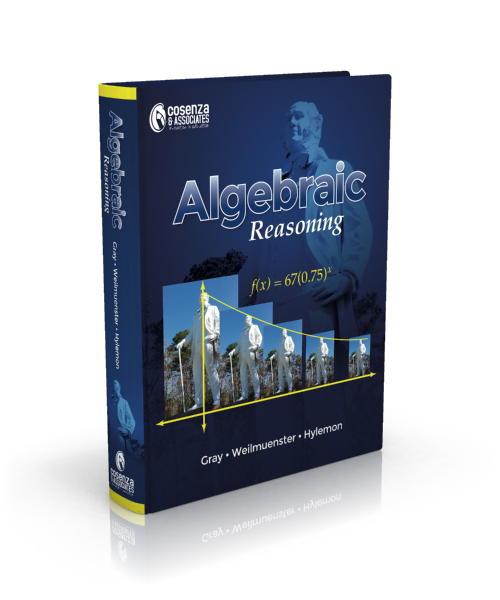 Algebraic Reasoning is a textbook to address the TEKS for the new Algebraic Reasoning high school math course. The Texas State Board of Education created this new course to increase the number of rigorous advanced mathematics courses available to students. The Algebraic Reasoning course is eligible in Texas for graduation credit as an advanced mathematics credit on either the Foundation diploma or an Endorsement.
Proclamation 2017 Update
On November 18, 2016, the Texas State Board of Education adopted Algebraic Reasoning, making it the only state-adopted textbook for the Algebraic Reasoning course under Proclamation 2017. We were adopted at 100% alignment to the TEKS and required ELPS.
***NEW*** Learning List Reviews Algebraic Reasoning
Learning List's panel of independent reviewers has completed their review of Cosenza & Associates's Algebraic Reasoning textbook! Learning List subscribers can access the full contents of the editorial and technical reviews through their Learning List login. But everyone can read the new blog post from Learning List!
Learning List provides independent reviews of K-12 instructional materials and online courses. To see Learning List's professional reviews and alignment reports for our products, go to Learninglist.com.
***NEW*** Texas Education Agency Releases Supporting Information Documents
TEA has released the Supporting Information document for the Algebraic Reasoning course! The document specifies what is meant (or in some cases, not meant) by the TEKS for this course.
Download the Supporting Information document here!
---
Who wrote Algebraic Reasoning?
The authoring team is led by Dr. Paul Gray, Jacqueline Weilmuenster, and Jennifer Hylemon. Each of these authors has extensive experience in Texas mathematics education, including as classroom mathematics teachers and district-level mathematics supervisors. Algebraic Reasoning is a textbook written by Texas educators for Texas educators and students!
What does an Algebraic Reasoning lesson look like?
Lessons are inquiry-focused lessons based on a compacted 5E instructional model. Each lesson begins with a brief Engage activity that teachers can use to launch the lesson. Engage activities help students focus on the content of the lesson and activate prior knowledge that they will need to be successful in the lesson. Explore activities are hands-on activities in which students investigate the content and begin to look for patterns and make conjectures. The Explain phase provides students with important formalized content and stepped-out examples coupled with You-Try-It exercises so that students can check their own understanding.
Students and teachers can scan a QR code in the Explain section to view videos. One video summarizes the content from the Explain phase and is ideal for students who want to review what they learned in class that day or for teachers using a flipped-classroom design. Additional videos provide solutions to the You-Try-It problems.
What is contained in the Student Edition or the Teacher Wraparound Edition (TWE)?
The Algebraic Reasoning student edition contains 64 lessons, mid-chapter reviews, and end-of-chapter reviews. Each lesson begins with a Focusing Question to set the stage for student inquiry. Students also see their learning outcomes that are written in student-friendly "I can…" statements. Student editions also contain QR codes in each section that link directly to instructional videos that summarize the Explain section and show students how to work the "You Try It!" problems.
The Algebraic Reasoning Teacher Wraparound Edition (TWE) contains several features that are intended to help teachers deliver effective instruction. Instructional hints appear throughout the TWE, offering best-practice based suggestions for use of technology, differentiated instruction, and English language learner support.
Teachers also have online access to ancillary material, including digital versions of the content from the TWE, mid-chapter and end-of-chapter tests and a bank of editable questions that address content from each section within the chapter.
Algebraic Reasoning is available in both print and digital formats for use in the 2016-17 school year.
Print version: The Algebraic Reasoning student edition is $115. The Algebraic Reasoning Teacher Wraparound Edition (TWE) is $125. Print materials incur a 10% shipping and handling charge. Both teacher and student editions are subject to minimum purchase requirements.
Digital version: A student license through the 2024-25 school year is available for $95 per student. One digital license is for one user and may be reassigned as students transfer in or out of an Algebraic Reasoning class. Each student enrolled in the Algebraic Reasoning course must have one license assigned to him or her in order to use the Algebraic Reasoning textbook material. Digital materials do not incur shipping and handling charges.
Take a Guided Tour of Algebraic Reasoning with an Author!