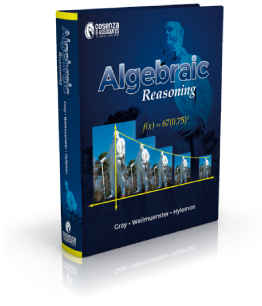 Welcome to our Algebraic Reasoning professional learning catalog! Register for different online professional learning courses on this page.
As of September 2020, we are pleased to offer our introductory course at no cost. Based on demand and teachers' learning needs, we will develop additional courses and add them to our catalog on this page.
Course 1: Finite Differences
In this interactive online course, you will explore number patterns found in input-output tables in polynomial functions and exponential functions. First, you will learn how to identify a function from these number patterns. Then, you will use these number patterns to write the symbolic rule for the function. We address this content in Chapter 1 of the Algebraic Reasoning textbook. However, in this professional learning course, we approach it from the teacher's perspective so that you can sharpen your mathematical knowledge for teaching and help your students make important connections.
Finite Differences is available in two formats. We have a public HTML-based version where you can download and complete an activity and then view videos addressing the content. We do not moderate or monitor this version. It is an on-your-honor system and your district may or may not award professional education credits for this version.
We also offer Finite Differences as a moderated Moodle course! This version is more interactive and you will receive a certificate of completion after completing all activities. Sign up using the form below.
---
Algebraic Reasoning Finite Differences Professional Learning Course Enrollment
Use this form to register for an upcoming session of the "Algebraic Reasoning Finite Differences" professional learning online course. Complete the form and then click "Submit" below. We will contact you with registration information prior to the session.