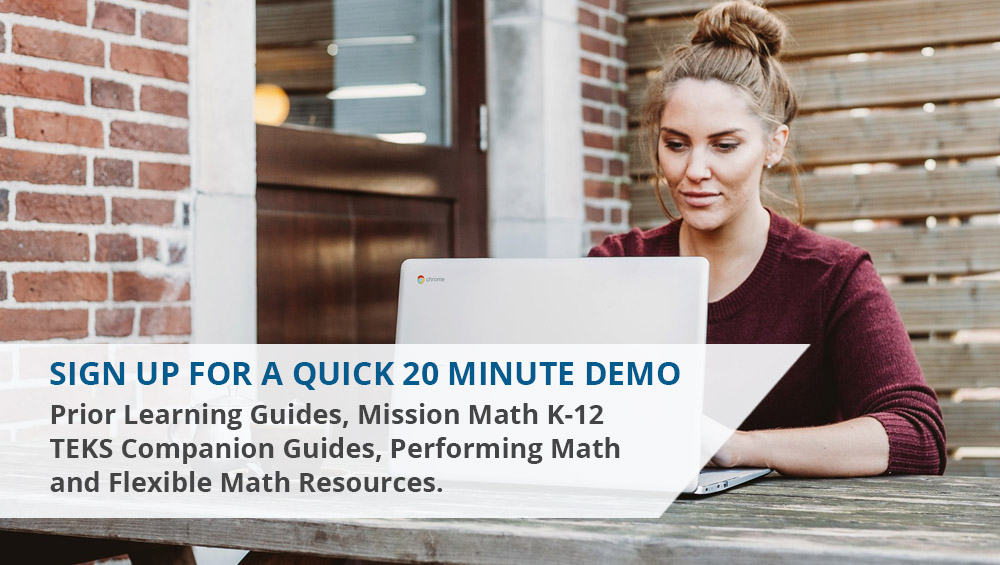 Sign up for a private webinar from Cosenza & Associates, focusing on how to use our math resources designed for the TEKS. In each quick, 20 minute webinar, we will show you how to use our most popular math programs, whether you are teaching in-school, remotely, or in blended learning situations.
Using Math Tasks Flexibly
One of the greatest challenges facing math teachers today is how to successfully assess students who are learning outside of the classroom. Register now for our webinar where we will show you how to use our popular Performing Math Tasks to assess your students' conceptual understanding of mathematical concepts and how to apply them to real world situations, whether you are teaching in-school, remotely, or in blended situations. Why struggle to create your own assessment tool when Cosenza & Associates offers a proven solution?
Performing Math at a Glance
Aligns with TEKS for Grades 3-8; Algebra 1; and Geometry
Each task focuses on one content TEKS/SE.
Each task includes additional content TEKS that students may use as they solve the problem.
Each task includes mathematical process TEKS as they are addressed in the task.
Both open-ended and open-middle tasks are included.
Each task is designed to foster mathematical discourse.
What are some ways you can use Performing Math tasks?
Provide tasks for below level, on-level, and the advanced learner: The task for a particular TEKS/SE focuses on increasing student understanding, and thus standardized test performance, for on-level learners. However, every classroom has students who learn at a variety of paces. We have differentiated each task for below-level learners as well as advanced or above-level learners.
Implement problem-solving models in classroom instruction: Use Performing Math tasks for explicit instruction on using problem-solving models to work through a situation where the pathway to the solution or answer is not immediately obvious.
Help students focus on one learning outcome or TEKS/SE, but require students to recall and apply additional concepts and skills: In doing so, students gain a more holistic view of mathematics as problem-solving instead of mathematics as answer-getting.
---
Other Flexible Math Resources
Flexible Math Resources will show you how Cosenza & Associates' math resources, designed for the TEKS, can be used flexibly in shifts from in-school to at-home remote learning or in blended learning situations.
Algebraic Reasoning Textbook
The Algebraic Reasoning Textbook addresses the TEKS for the Algebraic Reasoning high school math course. Lessons are inquiry-focused and built around a compacted 5E instructional model. For each lesson, the textbook includes:
Engage Activity: helps students focus on the content of the lesson and activate prior knowledge needed to be successful in the lesson.
Hands-on Explore Activities: allows students to investigate the content and begin to look for patterns and make conjectures.
Explain Phase: provides students with important formalized content.
Stepped-out Examples: enables students to check their own understanding.
Prior Learning Guides
Prior Learning Guides are based on TEA's Vertical Alignment Documents and show, for each TEKS/SE at a grade level or course, which standards from the most immediate previous grade build up to that TEKS/SE. This invaluable resource is for Grades 1-8 and Algebra 1.
Mission Math K12™
Mission Math K12™ is a flexible, condensed curriculum for Grades K-8 Mathematics, Algebra 1, Geometry, and Algebra 2. Based on the 5E instructional model, Mission Math K12™ lessons are teacher tools that harness the power of multimedia, including engaging audio and video documents, to deliver instruction that reinforces conceptual understanding so that students can become proficient with important skills.
TEKS Companion Guides
TEKS Companion Guides were developed for Grades 3-8 Mathematics and Algebra 1. Mini-lessons focus on the mathematics TEKS for that grade level or course and include a set of practice problems designed around a compact instructional plan with three components.
The Tell Me More section contains a brief summary of key ideas, concepts, and skills that are addressed in the target TEKS for that lesson.
Stepped-out Examples show students how to solve a problem that is based on the target TEKS.
Practice problems consist of a blend of constructed response and multiple choice questions that use the language students may expect to see on the STAAR® for that grade level.
Performing Math™
Performing Math is a set of performance tasks that teachers can use to enhance students' understanding of mathematical concepts and skills. Each task focuses on one content TEKS/SE. Each task also includes additional TEKS content that students may use as they solve the problem.
Request A Private Online Presentation
If another time would work better for you, please fill out this form and we'll schedule a private online presentation for you.