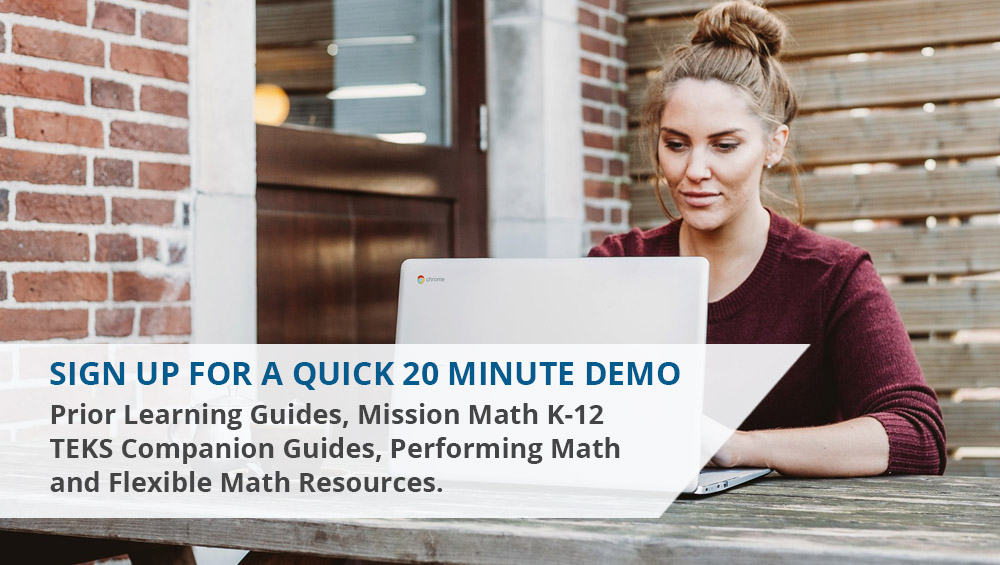 Register now for this week's webinars from Cosenza & Associates, focusing on how to use our math resources designed for the TEKS. In each quick, 20 minute webinar, we will show you how to use our most popular math programs, whether you are teaching in-school, remotely, or in blended learning situations.
Flexible Math Resources
Flexible Math Resources will show you how Cosenza & Associates' math resources, designed for the TEKS, can be used flexibly in shifts from in-school to at-home remote learning or in blended learning situations.
Algebraic Reasoning Textbook
The Algebraic Reasoning Textbook addresses the TEKS for the Algebraic Reasoning high school math course. Lessons are inquiry-focused and built around a compacted 5E instructional model. For each lesson, the textbook includes:
Engage Activity: helps students focus on the content of the lesson and activate prior knowledge needed to be successful in the lesson.
Hands-on Explore Activities: allows students to investigate the content and begin to look for patterns and make conjectures.
Explain Phase: provides students with important formalized content.
Stepped-out Examples: enables students to check their own understanding.
Prior Learning Guides
Prior Learning Guides are based on TEA's Vertical Alignment Documents and show, for each TEKS/SE at a grade level or course, which standards from the most immediate previous grade build up to that TEKS/SE. This invaluable resource is for Grades 1-8 and Algebra 1.
Mission Math K12™
Mission Math K12™ is a flexible, condensed curriculum for Grades K-8 Mathematics, Algebra 1, Geometry, and Algebra 2. Based on the 5E instructional model, Mission Math K12™ lessons are teacher tools that harness the power of multimedia, including engaging audio and video documents, to deliver instruction that reinforces conceptual understanding so that students can become proficient with important skills.
TEKS Companion Guides
TEKS Companion Guides were developed for Grades 3-8 Mathematics and Algebra 1. Mini-lessons focus on the mathematics TEKS for that grade level or course and include a set of practice problems designed around a compact instructional plan with three components.
The Tell Me More section contains a brief summary of key ideas, concepts, and skills that are addressed in the target TEKS for that lesson.
Stepped-out Examples show students how to solve a problem that is based on the target TEKS.
Practice problems consist of a blend of constructed response and multiple choice questions that use the language students may expect to see on the STAAR® for that grade level.
Performing Math™
Performing Math is a set of performance tasks that teachers can use to enhance students' understanding of mathematical concepts and skills. Each task focuses on one content TEKS/SE. Each task also includes additional TEKS content that students may use as they solve the problem.